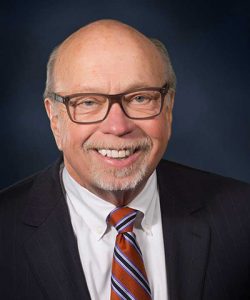 We are excited to congratulate Thomas A. Mickes on being honored with the MARE/MO K-8 "Friend of Rural Education" Award for 2020.
Tom has dedicated his professional life to serving Missouri public school districts. He began his career in the classroom as a teacher and coach and has served as a principal, superintendent, and school board member. After earning his law degree from St. Louis University School of Law in 1979, and a Ph.D. in Education Administration in 1983, Tom translated his passion for education into his work as a school law attorney and has represented school districts for four decades.
Tom is the founding partner of Mickes O'Toole, LLC in St. Louis Missouri, and formed the Firm's education law group which represents more than 250 school districts, colleges and universities across Missouri and Illinois. Tom is also counsel for M.U.S.I.C. in the representation of school districts in litigation of employment, civil rights, and constitutional claims. Mickes O'Toole has been repeatedly honored by U.S. News & World Report with its designation as one of the Best Education Law Firms. Tom has also been individually recognized for his exemplary advocacy for public schools and has routinely been selected by SuperLawyers and Best Lawyers as the best education attorney in Missouri and Kansas by attorneys in those states. He has also been similarly recognized by St. Louis Magazine and Kansas City Magazine.
Tom has dedicated exemplary service to the Council of School Attorneys for nearly thirty years at the national and state level. Tom co-founded and is the former Chairman of Missouri's Council of School Attorneys and affiliated the group into the national COSA organization. Also, Tom served on the Board of Directors of NSBA's COSA from 1989 to 1993. Tom has also served as the Vice Chairman of the Missouri Bar School Law Committee and has authored school law columns for the Missouri Association for Rural Education (MARE) and for the Missouri Association of School Business Officials (MOASBO). Tom has provided countless presentations, trainings, and in-services on various employment and education law topics to school administrators and professional associations. This summer Tom sponsored his 37th Annual School Law Seminar, a free back-to-school seminar offered to school administrators across Missouri. Tom has also been a regular presenter at NSBA Council of School Attorney seminars, as well as, state council seminars, including Arkansas, Georgia, Kansas, New Hampshire and North Dakota.
Tom has continued his love for education and teaching and has lengthy experience teaching in the doctoral program at St. Louis University and at Maryville University since the inception of the program. Tom also gives back to the community and has served on the Board of Directors for the St. Joseph Institute for the Deaf, the Board of Education for the Archdiocese of St. Louis, as well as, Director and long term Chairman and Board Member of Linda Vista School, and won the Distinguished Community Service Award in 2011, from Harris-Stowe State University in honor of the 25th Anniversary of the Dr. Martin Luther King Jr. State Celebration and the Missouri Lawyers' Weekly ICON Award in 2019.
His passion for education has been tirelessly supported by his wife, Karen, during their 47 years of marriage and also by his two adult daughters, Ellen and Sarah, whose impact by their father's life is self-evident in their chosen career paths: attorney and public school teacher.