Vince Reese, Mickes O'Toole's managing partner, has once again been selected as a Top 100 attorney by The National Black Lawyers.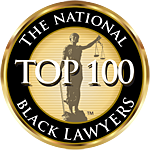 The National Black Lawyers is an invitation-only professional development and networking association comprised of the top African American attorneys from across the country. This exclusive organization selects the most successful and influential lawyers with reputations for providing excellent legal representation in their respective practice areas. The National Black Lawyers was created to celebrate legal excellence by promoting their attorneys as subject-matter experts, developing a strong national network of top African American attorneys, and facilitating the exchange of timely information to enable members to maintain their status as leaders.
Vince has been a member of The National Black Lawyers since 2016.