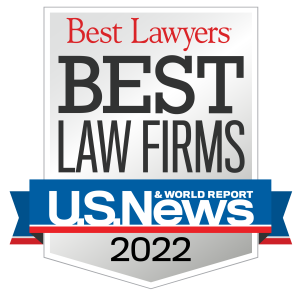 Mickes O'Toole, LLC has been ranked in the 2022 "Best Law Firms" list by U.S. News – Best Lawyers®.
This is the eleventh consecutive year Mickes O'Toole has been ranked.
Mickes O'Toole, LLC received the following rankings:
Regional Tier 1
Regional Tier 2
Regional Tier 3
Firms included in the 2022 "Best Law Firms" list are recognized for professional excellence with persistently impressive ratings from clients and peers. Achieving a tiered ranking signals a unique combination of quality law practice and breadth of legal expertise.
The 2022 Edition of "Best Law Firms" includes rankings in 75 national practice areas and 127 metropolitan – based practice areas. Additionally, one "Law Firm of the Year" was named in each nationally-ranked practice area.
Ranked firms, presented in tiers, are listed on a national and/ or metropolitan scale. Receiving a tier designation reflects the high level of respect a firm has earned among other leading lawyers and clients in the same communities and the same practice areas for their abilities, their professionalism and their integrity.