Written By: Patrick Brazill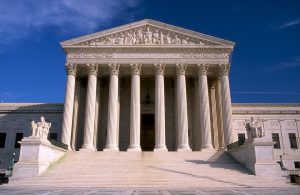 The Supreme Court of the United States agreed to weigh in on three cases that have to do with whether existing federal bans on sex discrimination in the workplace also prohibit discrimination based on sexual identity or gender identity. In the consolidated cases of Altitude Express Inc. v. Zarda and Bostock v. Clayton County, Georgia, a skydiving instructor and child welfare services coordinator, respectively, said they were fired for being gay. And in R.G. & G.R. Harris Funeral Homes v. Equal Employment Opportunity Commission, an employee of a funeral home said she was fired because she came out as transgender.
The issue in the consolidated cases is whether federal laws banning employment discrimination protect gay and lesbian employees. In Altitude Express Inc. v. Zarda, the petition for review was filed by a skydiving company in New York, now known as Altitude Express. A skydiving instructor for the company, Donald Zarda, alleged he was fired after telling a female client that he was gay so she didn't need to worry about being strapped tightly against him during the dive. Ruling in favor of Zarda, the Second Circuit Court of Appeals said sexual orientation discrimination is a subset of sex discrimination.
In Bostock v. Clayton County, Georgia, the Eleventh Circuit Court of Appeals ruled against a Georgia man who lost his job with Clayton County after his employer learned that he was participating in a gay softball league. The court said that Title VII does not prohibit sexual orientation discrimination.
In R.G. & G.R. Harris Funeral Homes, the issue before the Supreme Court is whether Title VII prohibits discrimination against transgender people based on (1) their status as transgender or (2) sex stereotyping under Price Waterhouse v. Hopkins. This case is on appeal from the Sixth Circuit Court of Appeals, which said a woman who worked for a funeral home in Michigan was unlawfully fired just two weeks after she came out to her employer as being transgender. In response, her employer said she did not follow the employer's dress code. The court ultimately said that transgender discrimination is prohibited under Title VII.
Under Title VII of the Civil Rights Act, workplaces are not allowed to discriminate on the basis of sex. Title VII, however, doesn't explicitly prohibit anti-gay or anti-transgender discrimination, instead banning discrimination based on sex. Most federal courts have excluded sexual orientation in Title VII on that basis, until recent rulings in both New York and Chicago that discriminating against gay men and lesbians was a form of sex discrimination. It is now up to the Supreme Court to define who is and is not protected under the law.
Soon, the United States Supreme Court will decide whether federal law extends to gay and transgender workers. We will continue to monitor developments on this front and post an update as those developments arise.