Laura Reeves has been practicing law for 35 plus years and has comprehensive legal experience and expertise helping businesses of all sizes and in diverse industries achieve their goals.  Laura concentrates her practice in the areas of corporate transactions and business law, including contract drafting and review; mergers and acquisitions; lease negotiations, drafting and review; corporate compliance; due diligence; business formation and structure; and commercial real estate. Laura has extensive experience in for-profit and nonprofit corporate governance and compliance.
Laura previously served as Chief Legal Officer for a national multimedia production and issue advocacy company, while providing strategic legal advice on a broad and diverse range of matters  integral to business operations including those related to media issues/rights, sports representation, real estate development, special events, human resources, marketing, business litigation, construction, and training.
Laura has also served as the Chief Operating Officer of a nonprofit organization and, for over 20 years, as an executive of Anheuser-Busch Companies.  During her tenure at Anheuser-Busch, Laura served as Corporate Secretary and Assistant Corporate Secretary of Anheuser-Busch and its over 100 subsidiaries and was responsible for NYSE and SEC reporting and compliance, liquor licensing, shareholder relations, executive compensation programs and general corporate compliance. Laura also directed the Anheuser-Busch charitable giving program through investments of $33 Million made annually to communities across the country; she also served as Vice-Chairman of the Anheuser-Busch Foundation.
Laura has a longstanding commitment to the community and has served on over 16 regional and national nonprofit boards and was a founding member of an international conservation fund. During her career, Laura has served on the advisory board of a national bank, president of several industry organizations and as a member of a corporate advisory task force to a federal agency.
Laura received her B.S. of Accountancy from University of Missouri-Columbia and her J.D. from Saint Louis University.
University of Missouri-Columbia, Accountancy, B.S.
St. Louis University – School of Law, J.D.
Professional Affiliations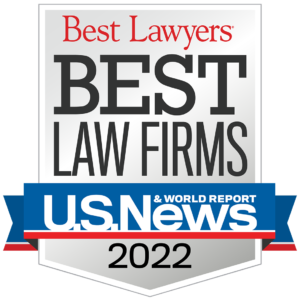 Excited to Welcome Our Newest Attorney
We are excited to announce David W. Morin is the firm's newest attorney. David Morin practices in the areas of ...
Mickes O'Toole Awarded 2023 Best in Customer Service
We are proud and humbled to announce that Mickes O'Toole was named by St. Louis Small Business Monthly as the ...
Renken Named Partner
Melanie Renken focuses her practice on labor and employment law and education law.  With extensive experience ...
Mickes O'Toole Recognized as a Top 20 Law Firm
Mickes O'Toole was honored to be recognized as a Top 20 Law Firm by Missouri Lawyer Weekly. Many of our ...
Our team of professionals welcomes the opportunity to serve your needs.