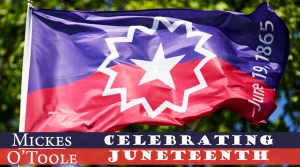 In a great example of bi-partisanship, on Tuesday the United States Senate voted unanimously on a resolution to make Juneteenth a federal holiday. The Senate resolution officially establishes June 19th as "Juneteenth National Independence Day." Wednesday, the day after the Senate passed the resolution, the United States House of Representatives also approved the resolution and Thursday President Biden signed the bill into law. As June 19th falls on Saturday this year, Juneteenth will be formally observed by the federal government tomorrow, June 18th.
Juneteenth is the blending of the words June and nineteenth. It is a celebration of the end of slavery in the United States. The celebration commemorates June 19, 1865, which was the day Union Army Maj. Gen. Gordon Granger road into Galveston, Texas and told the slaves there they had been freed. On that day, Granger told the crowd "In accordance with a proclamation from the Executive of the United States, all slaves are free." That day came more than two years after President Abraham Lincoln issued the Emancipation Proclamation on January 1, 1863. Even after President Lincoln declared all enslaved people free, it took years to effectuate that proclamation.
Juneteenth has been celebrated informally since 1865, but Texas became the first state to make it a state holiday in 1980. As of today, forty-seven states and the District of Columbia acknowledge Juneteenth as a state holiday or otherwise recognize Juneteenth.
Let's celebrate this display of bi-partisan cooperation to formally recognize Juneteenth and please take a moment to appreciate the history and importance of Juneteenth for our Country.
— Vince Reese, Managing Partner